Hull station memorial unveiled for World War One dead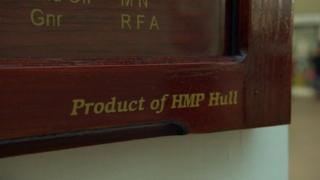 A memorial to honour 2,000 men who died during World War One has been unveiled at Hull's Paragon Street station.
The names of the war dead, who departed from the station between 1914 and 1918 but never returned, have been etched on to 20 wooden plaques.
The plaques were designed and created by inmates at Hull prison.
Station manager David Hatfield said it was an appropriate tribute to men who had "given the ultimate sacrifice".
Mr Hatfield said prisoners and staff had been the driving force behind the idea.
"We have over 2,000 names and 20 plaques but it started as one simple plaque but as we got the names from the Commonwealth War Graves Commission they just kepr growing.
"Hopefully, they will be received really well."