Humber Refinery workers walk out for a second day in safety row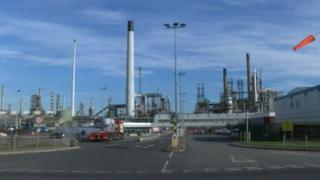 Hundreds of contract workers have downed tools for a second day at an oil refinery in North Lincolnshire over "safety concerns".
The decision to walk out was made following a meeting at 08:00 GMT of workers and union officials.
On Monday, at least 450 contract workers at the Philips 66 plant in South Killingholme left the site.
It follows a gas leak last week in which two people were taken to hospital.
The refinery processes barrels of oil into petrol and diesel.
Phillips 66 confirmed there had been "a small gas release on a unit during some routine maintenance work at the Humber Refinery" last Wednesday.
'Ongoing dialogue'
In a statement, the company said: "Our emergency response team responded and the county ambulance was called. As a precaution two contractors were taken to the local county hospital who were later released to return to work.
"We are investigating the cause of the release. Operations were not interrupted."
The company employs 1,000 contractors and 750 staff. Mechanical engineers, scaffolders, welders and pipe-fitters are among the workers who have walked out.
GMB union officer Shaune Clarkson said his members wanted a meeting with management to discuss safety at the plant.
"The most important thing when you walk through those gates in the morning is you get home safely to your families at night," he said.
"All we want, and all the men want, is a reassurance that is going to happen."
A company spokeswoman said Philips 66 had been holding an "ongoing dialogue with contractor management over the last week to discuss their issues, many of which relate to onsite communications".