Humber Refinery workers return to work after strike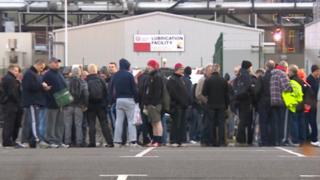 Striking workers have returned to work at a North Lincolnshire oil refinery after three days of industrial action.
Around 450 contract employees walked out of the Humber Refinery in South Killingholme on Monday claiming safety concerns.
Their action followed a gas leak last week in which two people were taken to hospital.
The plant's owners, Phillips 66, said it would hold meetings with staff and the managers of contract companies.
A spokeswoman for the company said it would "engage in open and honest dialogue to address any concerns outstanding and will work to reach a satisfactory conclusion".
"Safety is the Humber Refinery's number one priority," it added.