Animal movements allowed in East Yorkshire bird flu zone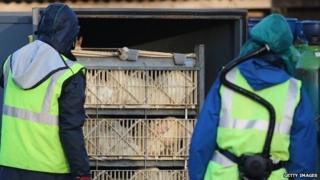 Farmers in a restricted zone around an East Yorkshire farm hit by bird flu will be allowed to move their animals.
Transportation of livestock and eggs was banned following the outbreak at Nafferton on Monday.
The Department for Environment, Food and Rural Affairs (Defra) said it would grant licences for movements out of the 10km (six-mile) surveillance zone under "certain conditions".
Thousands of birds have been culled to prevent the outbreak spreading.
The strain of avian influenza has been indentified as as H5N8, the same type seen in recent outbreaks in Europe.
'Disease control'
In statement, Defra said: "The advice from the chief medical officer and Public Health England remains that the risk to public health is very low.
"The Food Standards Agency have said there is no food safety risk for consumers."
Defra's Animal and Plant Health Agency said licences for animal transport would be granted on a case-by-case basis and each would be "be subject to certain conditions based on disease control risk".
The licences would cover the movement of animals to slaughter and allow eggs to be taken to packing centres or to hatcheries.