Bridlington's Palace Avenue demolition to start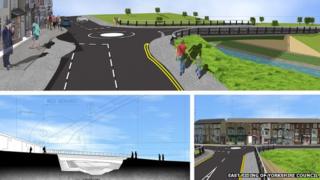 Demolition work on 11 buildings on one street in Bridlington is to begin on Monday.
The work in Palace Avenue is the start of a council plan to improve the East Yorkshire seaside town's economy and roads.
The properties were acquired by the East Riding of Yorkshire Council and the first three are to be demolished by Christmas, it said.
The work is to allow a new bridge to be built in nearby Beck Hill.
The demolition of further properties in Hilderthorpe Road is planned over the next year to widen the road, the council added.
The project will eventually include new public space and a transport interchange near the railway station.
The council leader, Councillor Stephen Parnaby, said it would bring long-term benefits to the town.
An exhibition outlining Bridlington's transport plan is to be held at The Spa on Wednesday 3 December.