Tophill Low Nature Reserve water voles protected with mink traps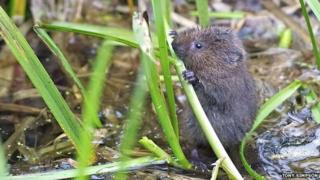 Traps are to be distributed to farmers and landowners in East Yorkshire to reduce the number of escaped minks and help boost the water vole population.
Yorkshire Water, which runs Tophill Low Nature Reserve, near Driffield, will deliver 40 traps.
Warden Richard Hampshire said the number of mink caught at the reserve was "at their highest in 12 years".
American mink were introduced to Britain in 1929 for fur farming, but escaped into the wild.
The mink is the main predator of the water vole, a nationally-protected mammal and one of the UK's endangered species.
Mr Hampshire said traps installed at the reserve had caught four mink in a single month, compared to the usual rate of one every six months.
He said: "We've historically got one mink every six months or so but then we had four in September and the latest footage from our trail cameras have captured several more.
"That puts our number for the year close to around 10 and that's the worst it's been since 2002.
"It's likely that they've been attracted to our site because of how well the water voles are doing."
In July, the water company said the number of water voles at its reserve had doubled to 200 groups or families, which usually contain about six mammals, in the last two years.
Restoring wetlands and setting mink traps at the site had encouraged the species to "thrive", Mr Hampshire said.