Detective Colin Andrews 'covered raped woman's mouth'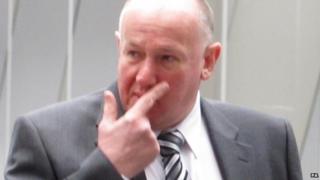 A senior detective with Humberside Police held his hand over a woman's mouth while he raped her after a Christmas party, a court has heard.
Former Det Ch Supt Colin Andrews, 57, is accused of carrying out the rape in a hotel room, in December 2003.
He denies rape, two counts of common assault, assault occasioning actual bodily harm, stalking, harassment and witness intimidation.
The woman told Manchester Crown Court she had tried to scream.
'Banged head'
On the second day of the trial, she told the court: "I did scream, he held his hand over my mouth. I thought he would stop if I screamed.
"I thought that because there was someone in the next room he would stop if I screamed, but he didn't."
She also described a separate incident in which she said: "He pushed me in the stomach and I banged my head on the wall and fell to the floor."
The police service was Mr Andrews' life and he loved his job, the jury was told.
The former murder detective, from Brough, East Yorkshire, retired from his post earlier this year.
'Mid-life crisis'
Defence barrister Tanya Griffiths QC put to the woman that she was "lying" and that it had taken her 10 years to make her rape allegation.
Cross-examining her, Ms Griffiths asked the woman: "...the alleged rape at the chief officer's Christmas party is the perfect target, that would cause the maximum embarrassment wouldn't it?"
The woman denied lying.
During the opening day of the trial, the father of one was described as "controlling, manipulative and bullying".
The court also heard accusations of him pursuing a campaign of stalking and harassment against another woman in the summer of 2013, during which he sent thousands of text messages and emails.
Prosecutor Owen Edwards had said Mr Andrews "seems to have been going through a significant and sustained mid-life crisis".
The trial continues.