Dolly Parton joins Cleethorpes Rotary Club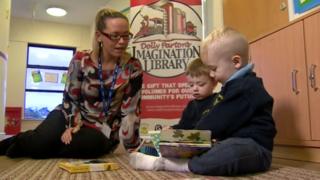 Country music star Dolly Parton has accepted an invitation to join the Cleethorpes branch of the Rotary Club.
The singer supports a children's library in the seaside resort, in partnership with the organisation.
Now, she has become an honorary member of the town's branch of the charity, the first she has joined outside the US.
Former club president Rolf Sperr said the members were surprised when Ms Parton agreed to join.
"We wrote to her and we never actually expected this," he said.
"All of a sudden we got an email saying Dolly accepted to be an honorary member of our club.
"We couldn't believe it, to be really honest."
The country singer is behind a literacy scheme to encourage pre-school children to read.
One of her Imagination Libraries opened at Cleethorpes' Little Stars Day Nursery, in March. Children at the nursery will be given a free book every month until they are five.
Almost 60 libraries have been set up across the UK under the scheme, since the first opened in Rotherham in 2007. The project recently handed out its millionth book.
Mr Sperr, who recently met the star backstage at a concert in Nottingham, said the club hoped Ms Parton would visit the town.