Detective Colin Andrews rape case 'unbiased'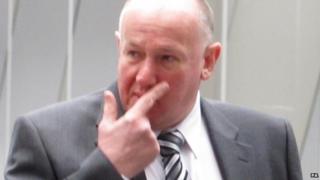 A senior officer investigating a rape allegation against an ex-Humberside Police senior detective has denied he was biased against him, a court heard.
Former Det Ch Supt Colin Andrews, 58, is accused of raping a woman in a hotel room after a Christmas party, in December 2003.
He denies seven charges including rape, stalking and harassment.
Manchester Crown Court heard evidence from ex-Det Ch Insp Mark Oliver, who was in charge of the investigation.
The jury heard how Mr Oliver was adamant that he had been impartial in his dealing with the defendant despite his unhappiness with him.
He said: "I think it was about 12:45 [GMT] on the Tuesday he was arrested and the following morning I went to report to the Assistant Chief Constable about the case and was told Mr Andrews didn't have confidence in me leading the investigation against him.
"I said I don't think I have had any problems with Colin Andrews and on that occasion the Assistant Chief Constable told me I had their confidence.
"I still believe at the time of the start of this I was the right person with the right skills and was impartial to investigate this..."
The case was later passed to Durham Police, the court heard.
Since the start of the trial, the court heard Mr Andrews being described as "controlling, manipulative and bullying".
The jury heard how he held his hand over the woman's mouth while he raped her.
The court also heard accusations of him pursuing a campaign of stalking and harassment against another woman in the summer of 2013, during which he sent thousands of text messages and emails.
Prosecutor Owen Edwards had said Mr Andrews "seems to have been going through a significant and sustained mid-life crisis".
Mr Andrews also denies two counts of common assault, assault occasioning actual bodily harm and witness intimidation.
The trial continues.