Crawberry Hill anti-fracking protest camp dismantled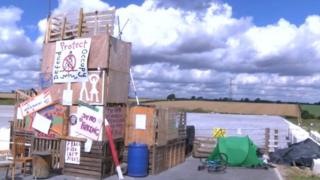 Bailiffs have begun dismantling an anti-fracking protest camp at a site in East Yorkshire where a firm hopes to prospect for gas or oil.
East Riding of Yorkshire Council, which owns the land at Crawberry Hill, near Beverley, said a notice calling for all caravans, tents and wooden structures to be removed had been ignored.
Humberside Police said three men had been arrested.
The camp was set up eight months ago near Rathlin Energy's drilling site.
A council spokesman said notices were served on 2 December following a number of safety concerns raised by the council, police, local residents, landowners and a parish council.
Fencing, timber buildings, caravans and tents are being removed "to ensure the safety of motorists, the travelling public and the protesters," he said.
He added: "The council will seek to recover the cost of doing this from the protesters.
"The council does not seek to obstruct or deny the protesters' democratic right to protest and in previous meetings has offered to provide an area of highway verge upon which they may carry on their protest, in person only without any structures being erected, and this offer remains."
A police spokeswoman said: "A 28-year-old man was arrested on suspicion of obstructing the highway. A 41-year-old man was also arrested on suspicion of obstructing the highway and a constable, and a 53-year-old man was arrested on suspicion of obstructing the highway and assaulting a police officer."
Rathlin Energy said in October no fracking was taking place at the site, stating it was carrying out "testing operations for conventional oil and/or gas".
Meanwhile, campaign group Frack Off has called on people in the area to support the protesters.