Hull's 'forgotten home movies' being sought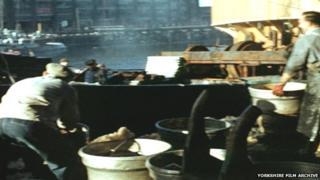 A search has been launched to find Hull's forgotten "home movies" to help document the city's heritage.
The Yorkshire Film Archive (YFA) campaign hopes to unearth old films, preserve and then screen them.
Some of the films are to be shown as part of the East Yorkshire city's 2017 UK City of Culture celebrations.
"We know that there must be more collections still out there, and we'd love to find them," Sue Howard, director of the YFA, said.
"These are not feature films or costly productions, they are films made by local people about the things they cared about.
"Everyone will see familiar places and even faces and delight in a look back at Hull over the decades as captured on film."
Vintage shots
The York-based archive already has black and white footage of Hull Fair in the 1930s and a film on Humber Highways made by amateurs Cyril and Betty Ramsden.
The couple spent their holidays in the 1950s making a colour film telling the story of the estuary from its mouth up to Hull Docks.
There are also vintage shots of various Hull street scenes showing children playing football, visiting the record shops and sporting "teddy boy" haircuts.
Archive staff now hope to find more films - from any era - tucked away in attics, cupboards and garages and digitise them before their condition deteriorates.