Ex-England rugby league star Gareth Raynor denies rape and wounding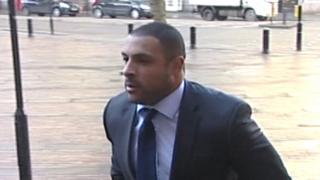 Former Great Britain and Hull FC rugby league player Gareth Raynor has gone on trial accused of rape and unlawful wounding.
The jury of eight men and four women at Hull Crown Court was told that Mr Raynor, 36, allegedly raped a woman at a New Year's party in 2006.
He is also accused of wounding the same woman with a knife in April 2000.
Mr Raynor, who played for Hull FC between 2001 and 2009, denies both charges.
Prosecutor Mathew Bean said Mr Raynor "really laid into" the alleged victim during the wounding incident.
"He used the knife to slash the top of her thigh," said Mr Bean.
He said the woman "remembers the pain" and "yelped like a dog".
She did not report the allegation of wounding at the time, he added.
When questioned by police, Mr Raynor said they had been playing a "game of dare" in which he pushed the knife on to her skin.
Mr Raynor won the Challenge Cup with Hull FC in 2005.
The trial continues.