Bei Carter killing: John Heald knifed landlady 'by accident'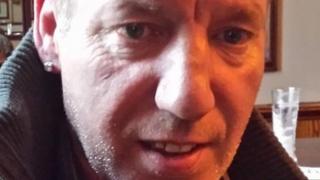 A man fatally stabbed a landlady by accident when she tapped him on the shoulder as he tried to leave her hotel in a panic, a court heard.
John Heald, 53, Rotherham, is accused of Bei Carter's murder, at Morayland Hotel, in Bridlington, on 18 July.
Mr Heald, of Foljambe Road, denies murder but accepts he was responsible for Mrs Carter's death.
At Hull Crown Court, he also denied three rape charges, in Sheffield, on 13 July.
During cross-examination by prosecutor Graham Reeds QC, Mr Heald maintained he had not intended to stab Mrs Carter, 49.
The defendant was feeling depressed and had gone to Bridlington "to get away", the jury heard.
He told the court he thought people were talking about him, and said that two men had called at the Morayland Hotel who had wanted to "slash" him.
Mr Heald - who is accused of carrying out the rapes five days before killing Mrs Carter, said he panicked and when he tried to leave the hotel Mrs Carter had "tapped him on the shoulder".
'Stamped on her face'
He said: "She tried to grab the knife and there was a push and pull struggle."
The 53-year-old maintained "it was an accident" but was responsible for her death, the court heard.
But, Mr Reeds said: "After attacking her, stifling her screams and stabbing her, you put her to the floor and you stamped on her face three times. That would explain all her injuries wouldn't it?"
In reply, Mr Heald denied stamping on Mrs Carter's face.
However, Mr Reeds told the accused he "sought to manipulate his way out of everything".
He said: "You're a liar. You lie at every opportunity. When you're found out, you lie even more."
The court heard Mrs Carter died from a single stab wound to the centre of her chest.
She was found dead by her husband, in one of the guest house's rooms.
The trial continues.