Humber RNLI prevents drifting container from wind farm crash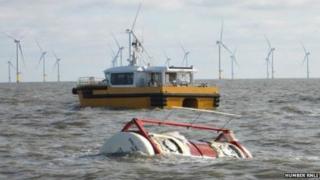 A container drifting in the North Sea was stopped from crashing into a wind farm by the RNLI.
The Humber Lifeboat crew was practising with the coastguard's new search and rescue helicopter on Friday when it was alerted, an RNLI spokesman said.
Several vessels spotted the container adrift, and the RNLI said it had managed to prevent "a larger incident".
At one point it drifted within 1.4 miles (2.25km) of the Humber Gateway wind farm.
Humber RNLI coxswain Martyn Hagan said it had started to pose a "great risk" to local shipping and the wind farm.
The lifeboat crew, which is based at Spurn Point, was scrambled to the site from its location six miles north of the container, and a tug was launched from Grimsby to recover it.
The RNLI said the 10m (32ft)-long container could have become detached from a ship in bad weather.
The incident will be investigated and the owners contacted by the Maritime Coastguard Agency.
An RNLI spokesman said it was not a common occurrence for Humber RNLI, but "necessary to avert a potential incident developing".