National Lottery win joy for lucky trucker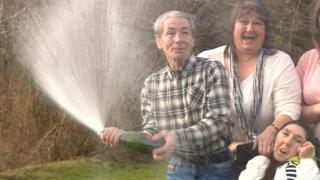 A couple who won almost £7m on the National Lottery say they plan to use the money help their three children, including their disabled daughter.
Paul and Debbie Lawton, from the seaside town of Withernsea in East Yorkshire, scooped £6.9m in Saturday's draw.
The couple look after their eldest daughter Tracey who has cerebral palsy.
Long-distance lorry driver Mr Lawton, 56, said they planned to buy a large, specially adapted bungalow.
"It will enrich her life so much and that's the most important thing on the agenda," said Mr Lawton.
"Then we can look after Nicola and her husband and our wonderful three grandchildren, along with Deborah and her partner, who are expecting their first baby later this year."
'Sat down in armchair'
Mr Lawton bought the winning ticket after popping into a shop to get a snack while on a driving job.
It was not until Sunday morning after he had helped Tracey get dressed that he got round to checking the numbers, while his wife was at work.
He said: "'One...two...oh, I've matched three numbers,' I thought. Then four, five and six matched too, so I checked them again, then I double-checked the date, and then I think I sat down in the armchair.
"I'm generally quite a calm person so didn't get too excited at this point but instead called Deborah at work and asked her to come home for 10 minutes."
Mrs Lawton calmly went back to finish her shift at a care home after checking the winning ticket.
The couple's other daughters came round in the afternoon and were told about the win, sparking a celebration party.