Hull bleach attacker Rebecca Morris sentenced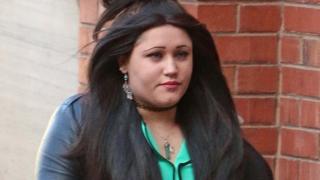 An 18-year-old woman who threw bleach into the face of an aspiring teenage model has been sentenced to 27 months in a young offenders' institution.
Victoria Smith, 17, suffered burns, hair loss and temporary loss of sight when she was attacked by Rebecca Morris at a house party in Hull on 20 August.
Hull Crown Court heard Morris hurled bleach at her while shouting: "That is for getting me kicked out of college."
Morris, of Hilary Grove, Hull, pleaded guilty at a previous court hearing.
She was also given a four-year restraining order and banned from contacting Miss Smith directly or indirectly.
The teenager, who used the modelling name Toria Melody, was lured by Morris to the house party on the junction of Albert Avenue and Cobden Street.
Shortly after she arrived, Morris threw a small cup of bleach at the model and shouted: "There's your shot of bleach instead of your shot of vodka."
'Spiteful and vengeful'
Two months after the attack Miss Smith, who now wears a wig because of the effect of the bleach on her hair, attempted to take her own life, the jury heard.
She now suffers from chronic dry eye problems and blurring of vision and has also given up modelling, having "lost her confidence".
Sentencing Morris, Judge David Tremberg said: "This was an assault which was unprovoked and premeditated.
"It was a spiteful and vengeful act.
"The emotional harm that you have caused has been grave."
He said the damage could have been worse if not for a "quick-thinking" friend who immediately washed out Miss Smith's eyes with a soft drink.
The court heard Morris and Miss Smith did not get along and there had been a "degree of ill-feeling" prior to the incident.
Miss Smith had complained to the college that both girls attended of harassment and bullying from Morris.
Det Sgt Chris Coupland, of Humberside Police, said: "The actions by Rebecca Morris could have led to Victoria being seriously injured or even blinded.
"It followed prolonged bullying by Morris, both face-to-face and online, which caused her victim a great deal of distress."
Morris, who has one previous conviction for common assault after brandishing a knife at her father, showed no emotion as she was sentenced but her family sobbed in the public gallery as she was led away from the dock.