Grimsby parents get tattoos of daughter's birthmark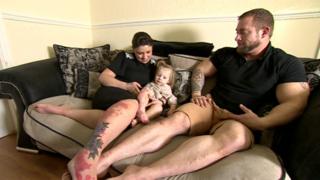 The parents of a girl born with a large birthmark on her leg have got matching tattoos in a show of support for their 18-month old daughter.
Honey-Rae Phillips has a port wine mark stretching from her foot to her lower back.
Her parents, Adam and Tanya Phillips, from Grimsby, decided to get the body art done after people stared at their daughter at a local supermarket.
Mrs Phillips said when her daughter first saw the tattoos she said "match".
Her mother said the two and a half hours of tattoo work "really hurt", but said it was worth it if it helped her daughter cope with the birthmark.
"It was to make her feel comfortable, make her feel proud and not to be ashamed," she said.
"There's not many people with that birthmark, so to us it is really, really unique. We love it and we are going to teach her to love it."
"We'll treasure it for ever, so even if hers does go she knows what was once on her leg."
The couple said they had positive feedback from friends and family and had also received supportive messages from people around the world with similar birthmarks.