Balloons released in Hull child mental health unit plea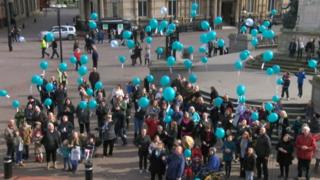 Some 101 balloons have been released in Hull for a girl who is being treated for mental health issues 60 miles from her home in the city.
Maisie, 13, has been receiving treatment at a unit in Sheffield as there are no beds for children locally.
Her mother Sally Burke is campaigning for a 24-hour mental health unit in the city.
She said she had organised the event to mark 101 days since her daughter left for treatment.
"It's a hard thing for Maisie and [the balloons] give her hope," said Mrs Burke.
Petitions
Maisie has autism and has suffered with serious mental health problems since her father died two years ago.
Mrs Burke said: "That 24-hour care that we need is crucial now for when Maisie's coming home on a weekend for a few hours.
"If she goes into crisis there's absolutely nowhere in Hull right now for her to get some immediate help."
Thousands of people have signed petitions for a 24-hour service in Hull after a residential unit in Hessle, that Maisie used to attend, closed two years ago.
The Hull Clinical Commissioning Group said the decision as to where young people were treated depended on the facilities that were available to meet their particular needs.
Those who require specialist care are more likely to have to travel further from home for the right treatment, it added.