Hull Airco Arena pitch petition gets 3,000 signatures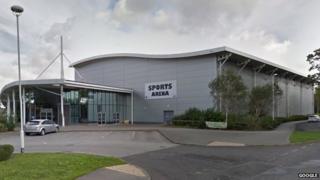 More than 3,000 people have signed a petition opposing Hull City's plans to install an indoor pitch in a sports arena in a move campaigners say will leave several sports clubs homeless.
The Premier League side wants to lay a synthetic pitch at the Airco Arena to improve its academy side's rating.
Clubs using the venue say they have one month to vacate the building, with many unable to find alternative homes.
Hull City has said it will try to help relocate the sides affected.
Among the clubs facing eviction are the Hull High Fliers trampoline club, Netball Superleague side Yorkshire Jets and the Hulls Angels Roller Dames.
Julie Williams, from the Hull High Fliers, said: "We can go in to any sports hall with the recreational [users] but the elites go up near to eight metres (26ft) in the air.
"Elites can't train in a venue that's under 10m (32ft) so we can't move them anywhere. We're literally homeless after this."
'Unfortunate situation'
Richard Dunn, who runs Next Generation Wrestling and stages events at the arena, said: "From our point of view there's nowhere that's going to facilitate us to the level that Airco Arena did."
Hull City say that installing the new pitch would allow it to apply for Category 2 Academy status.
James Mooney, the club's marketing and online commercial manager, said: "It's a really unfortunate situation for the other clubs involved.
"We're going to try and help to relocate them."
Hull City Council said it was seeking a meeting with the stadium management committee to consider how it plans to "meet its commitment to regular and individual users of the sports hall within the community use rights obligations that fall upon the company".