'Henry VIII' charity cake sale at Beverley food fayre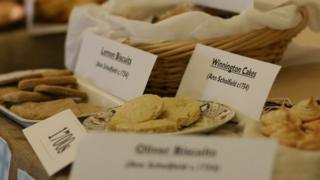 Cakes baked from recipes dating back to the time of Henry VIII and which may not have been tasted for centuries, are being sold to raise money for charity.
Staff at Beverley Archives, in East Yorkshire, researched and baked recipes from the 1500s to the 1920s.
Sam Bartle, from the archives, said a number of recipes had been tried out, including one for East Yorkshire sugar cakes, dating from the 1500s.
Money raised from the Beverley Heritage Food Fayre will go to charity Mind.
The Treasure House holds the town's archives, library and art gallery.
"People can find out what hot cross buns tasted like in 1907, or nibble on sugar cakes that were eaten in Elizabeth I's time," said Mr Bartle.