Hull Fashion Week shows off city style in its sixth year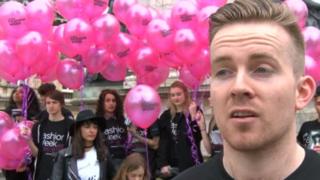 More than 70 businesses are taking part in Hull Fashion Week, which gets under way on Monday and is now in its sixth year.
The finale is to be held in Hull City Hall on Saturday, with other venues in the city taking part.
Organisers Adam Clark said "fashion in Hull is brimming at the moment", with the culture continuing to grow.
The week will include a young designer competition for schools and colleges in East Yorkshire.
The student's winning designs must be suitable to be worn at an awards ceremony and inspired by Hull's maritime history.
Mr Clark said the event was "massive for Hull" and gave shops in the city "a stage to show off what they can do".
"We're getting ready for City of Culture in 2017," he added.
The last event at the city hall will include six catwalks, a clothes swap and a vintage clothes market.
In 2014, more than 2,000 people attended the week's finale, organisers said.