Grimsby drinkers face alcohol fines of £100 for public refusal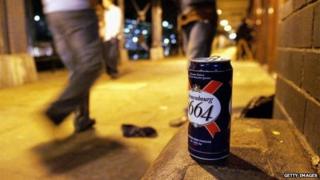 People who refuse to stop drinking in public areas of Grimsby could face fines of £100 under council proposals.
North East Lincolnshire Council is introducing "controlled drinking zones" in East Marsh, West Marsh, Park, Heneage, South, Croft Baker and Sidney Sussex.
Officials will be able to order people to stop drinking in these areas.
Anyone refusing to do so can be fined £100, falling to £80 if paid in 14 days and rising to £500 if not paid in 28.
Police officers, PCSOs and authorised officers of North East Lincolnshire Council can request people stop drinking in public.
The Public Space Protection Order areas are being introduced after councillors raised concerns about the amount of alcohol being drunk in public places in the town.