UKIP charge falls flat in Grimsby as candidate comes third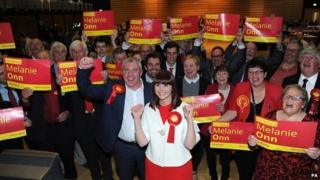 UKIP fell to third place in their target seat of Great Grimsby, with Labour's Melanie Onn winning a near-5,000 majority.
Long-serving Labour MP Austin Mitchell stepped down before the election but his replacement Ms Onn increased her party's majority.
Marc Jones finished second for the Conservatives with UKIP's Victoria Ayling third.
Labour held seats in Hull and the Tories retained Brigg and Beverley.
Former Home Secretary Alan Johnson increased his share of the vote in Hull West & Hessle to 49.2%, with UKIP a distant second.
It was the same story in Hull North and Hull East with Labour claiming increased majorities and UKIP taking second but never threatening the seat.
Labour also saw success in Scunthorpe where Nic Dakin held his seat with an increased majority.
Liberal Democrat candidate Simon Dodd saw a massive fall in his party's vote, winning just 770 seats.
The Conservatives lost ground in Beverley to Labour, but not by enough to threaten Graham Stuart's majority. He won with 25,363 votes. Labour's Margaret Pinder was second with 13,160.
Andrew Percy won a massive 53% of the vote in Brigg & Goole, the Conservative candidate claiming 22,946 votes. Labour's Jacky Crawford won 11,770 total votes taken.
There was another Conservative win in Yorkshire East, where Greg Knight increased his majority to 25,276. Labour's Kevin Hickson was a long way back with 10,343.