Saltend sewage works smell row sparks review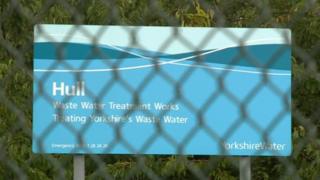 A long-standing row over the smell from a sewage treatment works in Hull has sparked a review of the way the site works.
The Saltend facility has been blamed for a smell of rotten eggs in the nearby town of Hedon for several years.
Yorkshire Water spent £3.5m on an odour control unit at the site in 2013.
But the company said ongoing complaints about the stench were "unacceptable" and would lead to a "major investment" in the site.
It comes after the site recently received unprecedented levels of waste, the firm said.
'Anti-odour unit'
Charlie Haysom, from Yorkshire Water, said: "The plant is now working at optimum capacity and there have been significant improvements.
"Where previously we used to receive complaints about odours all year round, now they are limited largely to six to eight weeks a year.
"But this is still unacceptable. It is clear that the works cannot cope with the volumes it receives during the peak load period."
Residents launched a campaign in 2011 for action over the smell, which led to the installation of the anti-odour unit.
Concerns were again raised in 2013 and Yorkshire Water increased the use of deodorising sprays.
One resident told BBC Look North: "[The works] has blighted Hedon from the day it opened.
"The smell is always going to be there, they might disguise it but I don't think it will ever go away. It's appalling."
Yorkshire Water said it had invested £10m in the site over the last five years.