Micra driver, 84, caught driving at 100mph on M62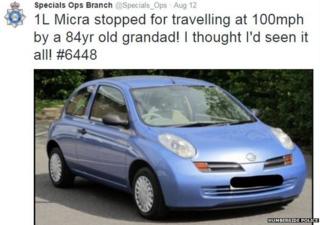 An 84-year-old motorist was caught driving a Nissan Micra at speeds of up to 100mph on the M62 in East Yorkshire.
The man was caught on Wednesday by Humberside Police as part of a month-long crackdown on speeding.
Tweeting at the time of the incident, Special Constable Alex Frost said: "1L Micra stopped for travelling at 100mph by a 84yr old grandad! I thought I'd seen it all!"
The force said the driver would be issued with a court summons.
Casualty reduction officer Simon Carlisle said: "At 84-years-old you are unlikely to have the same responsive reactions to that of a younger driver and so the speed this driver was doing was extremely worrying.
"If he needed to make any sudden manoeuvre he would have been in trouble."