Hull's City of Culture 2017 logo design unveiled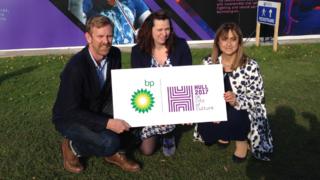 The logo to promote Hull's year as UK City of Culture in 2017 has been unveiled.
The multiple H symbol will be used on printed material and online, as well as being hung on flagpoles and banners across the city.
Martin Green, chief executive of Hull 2017, said the design was developed in a consultation process with members of the public.
"The brand is the result of many hundreds of conversations," he said.
"It is a direct result of the many, many voices that fed into it.
"It's like any artwork really, it goes on a journey and I've really enjoyed how it's evolved in coming out."
Mr Green, who was behind the opening and closing ceremonies of the London Olympics in 2012, said the design was produced by a Sheffield company, but refused to reveal the cost as it was "commercially confidential".
Turner Prize
Hull was awarded the title of City of Culture in November 2013, beating competition from Swansea, Leicester and Dundee.
The year-long event takes place every four years and is awarded by the UK government with the aim of helping tourism and the economy.
Hull City Council said it was planning to spend £18m on more than 1,500 events during the year.
Highlights include the hosting of the Turner Prize at the city's Ferens Art Gallery, which is undergoing a £4.5m revamp.
The council claims the event could bring more than £60m into the local economy and generate 7,500 new jobs.
BP has also been announced as a partner for the event. The company, which has a large chemical plant just outside Hull, joins other sponsors such as Yorkshire Water and the East Riding of Yorkshire Council.