Hull mural honours trawler safety fighter Lillian Bilocca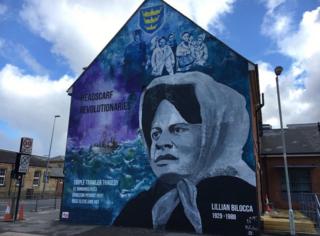 A huge mural honouring a Hull woman who battled to improve safety on board North Sea trawlers has been unveiled.
Lillian Bilocca, also known as Big Lil, led a campaign after three ships sank in 1968 with the loss of 58 lives.
She, along with Christine Jensen, Mary Denness and Yvonne Blenkinsop, forced new safety measures after lobbying the government.
The artwork, which depicts Ms Bilocca, has been painted on the entire gable end of a college on Anlaby Road.
Belfast artist Mark Ervine, who painted the mural alongside fellow artist Kev Largey, said it was important Hull celebrated what she had achieved.
"We're trying to do her justice in the best way that we can", he said.
"It's a remarkable achievement and I think she's fully deserving of a wall."
Three Hull trawlers - St Romanus, Kingston Peridot and Ross Cleveland - all sunk in quick succession. Only one man survived.
The four women, who were called Headscarf Revolutionaries and lived in Hull's fishing community of Hessle Road, gathered a 10,000-signature petition calling for reform after the triple trawler tragedy.
Ms Bilocca led a delegation to Parliament and eventually met Prime Minister Harold Wilson.
A book was later written by Dr Brian Lavery telling their story.
Rights to the book have been bought by production company Red Productions with ideas of turning the story into a TV drama or film.
A ceremony was held at the Maritime Museum in the city in May last year on what would have been Ms Bilocca's 86th birthday. She died in 1988.
Ms Jensen died in 2001.