Damaged East Yorkshire road reopens after repairs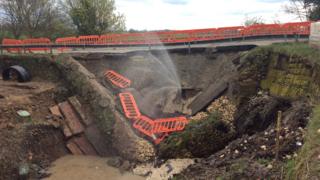 A busy road in East Yorkshire has reopened following repairs after it collapsed when a sinkhole opened up last month.
The A164 in Howden was closed after a culvert which carries water beneath the road collapsed on 14 April.
Network Rail said staff had "been working around the clock" to fix it.
Residents in Howden had complained that an increase in diverted traffic was making their residential street unsafe.
Mark Tarry, area director for Network Rail, said: "I'd like to thank residents living near the site and motorists who have been diverted on alternative routes for their patience and understanding while we have carried out the repairs."
The road will operate with temporary traffic lights as Network Rail continues to make repairs to the embankments on either side of the carriageway.