Hull City Council asks all staff to consider redundancy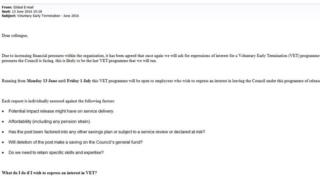 Hull City Council has emailed all of its workers asking them to consider taking voluntary redundancy.
The authority said it was looking for "expressions of interest" from every single employee because of "increasing financial pressures".
A union said it estimated about 300 jobs to be at risk.
Figures seen by the BBC last year showed 1,981 jobs had been cut in the five years leading to 2015 with a 32% reduction in staff.
Live coverage of this and other East Yorkshire stories.
Unison Branch Secretary Adrian Kennett said: "We've heard about 300 jobs [will go] but that will depend on who can go, what grades they are and how much that saves the council."
He said some workers who would consider voluntary redundancy could be in areas "the council will not be able to let go such as adult care, social services, street scene, things like that".
"There are going to be services that are going to be closed down, privatised, probably outsourced further and we're going to see a further driving down of terms and conditions for the staff," Mr Kennett said.
Deputy Council Leader Daren Hale said: "Faced with unprecedented and continuing cuts in central government funding we must, reluctantly, ask council staff to consider taking voluntary early termination.
"As a city, Hull has been hit harder than most by the cuts as we are dependent on the government's revenue support grant to underpin the delivery of essential local services.
"From 2010/11 to 2016/17, we've seen that grant cut by £115m - almost 47% of our budget - and further reductions are on the horizon.
"With much less government money available, any reduction in staff is likely to affect the standard and quality of services we are able to deliver."
Mr Hale said a trawl for volunteers would run until 1 July.