Bridlington homes evacuated second time after chemicals raid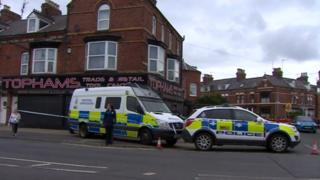 About 40 properties have been evacuated a second time after illegal chemicals were found at a house in Bridlington.
The substances were discovered at a property on Oxford Street by officers during a raid on Thursday, but was not terrorist-related, police said.
A 54-year-old man is in custody under the Poisons Act 1972.
A 100 m sq cordon around the area was lifted at 23:00 BST but reintroduced at 08:00 for the chemicals to be moved and disposed of safely, officers said.
Scientists and soldiers from the Royal Logistics Corps Explosive Ordnance Disposal (EOD) are at the scene.
Police have warned people living in the vicinity to keep away from the area until further notice and to expect a series of small controlled explosions as the house is made safe.
An internet chemical supplies business is listed at an address on Oxford Street, the BBC understands.
The company's website states its clients include Airbus, BAE Systems, the National Space Centre, Harvey Nichols and a number of top universities.
Its tagline is: "Laboratory chemicals, lab wares, photochemcials, pyrochemcials, analytics and consultancy. Fast but economical delivery."
One neighbour, who did not want to be named, said police knocked on her door on Thursday and told her partner to grab a change of clothes and leave the house.
She said: "It's been very surreal. It's the biggest thing that's ever happened in Bridlington."
More than 30 people of those evacuated were taken to Bridlington Spa while the police cordon was in place, the local authority said.
The customer service centre at the town hall is operating as a drop-in centre and will remain open until 20:00, the council added.
Supt Ed Cook said: "We do understand that it is inconvenient, and will make every effort to resolve the situation as soon as possible."