St Mary's Church in Barton upon Humber attempts knitted teddy bear record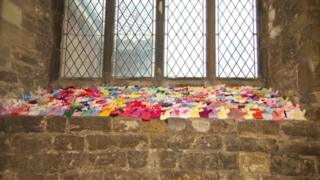 Almost 15,000 knitted teddy bear puppets have gone on display at a North Lincolnshire church in an attempt to break a world record.
St Mary's Church in Barton Upon Humber is hoping to break the current record of 15,534, organisers said.
The bears will later be put into shoeboxes as part of a Christmas present for children living in poverty.
Organiser Julia Wilson said she hoped each recipient would "feel the love that has gone into the bears".
Every bear is different and has been hand-knitted as part of Operation Christmas Child, which is organised by Samaritan's Purse - a Christian international relief organisation.
Ms Wilson said the church knitters "wanted to fill the world with teddies" and there was still time to donate more knitted bears.