Amy Johnson statue unveiled in Hull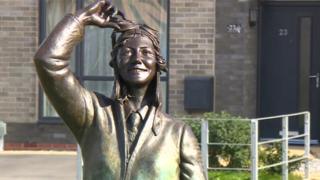 A statue of Amy Johnson, the first woman to fly solo from the UK to Australia, has been unveiled in Hull.
Actress Maureen Lipman unveiled the statue, built to commemorate the 75th anniversary of the pilot's death.
It also marks the end of the two-month Amy Johnson Festival in East Yorkshire in celebration of her life.
The sculpture is within a park in a new housing development near Hawthorne Avenue, close to Ms Johnson's childhood home.
The park is located on the site of the former Amy Johnson primary school.
Hull-born Ms Lipman said she was intrigued by Johnsons's story and had named her daughter after the pioneering pilot.
"I'm a daughter of Hull," she said.
"I wanted to celebrate the greatest export we ever had. I just think her story is so phenomenal".
Amy Johnson was born in St George's Road on 1 July 1903.
Her solo flight to Australia took 19 days and she landed in front of a huge crowd in Darwin on 24 May 1930.
The 37-year-old died during World War Two when the RAF plane she was transporting crashed in the Thames Estuary on 5 January 1941.
A second version of the statue is already installed at Herne Bay close to where she died, although her body has never been found.