Hull fishing trawler safety fighter Mary Denness dies aged 79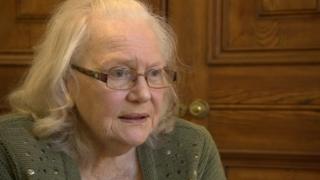 A woman involved in a battle to improve safety conditions on board fishing trawlers has died aged 79.
Mary Denness, of Hull, was one of four women dubbed "the Headscarf Revolutionaries", who campaigned following the sinking of three vessels in 1968 with the loss of 58 lives.
Tributes have been paid to a "very courageous and remarkable person".
Author Brian Lavery, who wrote a book about their story, said the campaigner died after a long illness with cancer.
Three Hull trawlers - St Romanus, Kingston Peridot and Ross Cleveland - all sunk in quick succession. Only one man survived.
Mrs Denness, Lillian Bilocca, Christine Jensen and Yvonne Blenkinsop gathered a 10,000-signature petition calling for reform after the triple trawler tragedy.
They forced the introduction of new safety measures, including all ships having a full-time radio operator, after lobbying the government.
Mrs Blenkinsop, 77, the last surviving Headscarf Revolutionary, said: "We got on like a house on fire since first we met and stayed firm friends.
"She was a lovely lady and a great campaigner."
Dr Lavery said: "She was a great campaigner but more than that, a great person whose eloquence, elegance, and kindness never failed to impress me.
"I admired her greatly. Without her and her comrades in 1968 many more would have died at sea.
"I have lost a great friend and Hull has lost one of its great citizens."
Former Deputy Prime Minister Lord Prescott tweeted: "So sad to hear of Mary's death..."
MP for Hull East Karl Turner tweeted: "Sorry to learn sad news that #Hull legend women's trawler safety campaigner Mary Denness has passed away. #RIPMary"
Flowers have been left at a bench on Hessle Road, one of a number unveiled in the Headscarf Revolutionaries' honour two years ago.