Evacuation in Beverley as car ploughs into house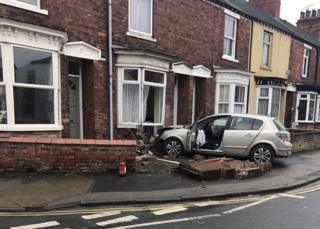 Two people were injured and 10 homes had to be evacuated when a car crashed into a house.
The beige Vauxhall Astra ploughed into the property in Grovehill Road, in Beverley, East Yorkshire, at about 10:40 GMT.
Police said two people suffered minor injuries in the incident.
About 10 neighbouring homes had to be evacuated over fears of a gas leak after the vehicle hit and damaged an external meter, the fire service said.
Residents have since returned to their properties after gas engineers ensured the area was safe, Humberside Fire and Rescue Service said.
The road between Cherry Tree Lane and Armstrong Way was also closed for a short time.