Allerthorpe village caravan park plans heard at inquiry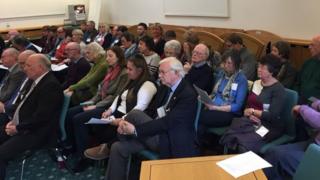 Plans to put up 150 lodges and static caravans close to a village of 68 houses have been heard at a public inquiry.
The plans for the site at Allerthorpe have been turned down by East Riding of Yorkshire Council.
The council said it was "inappropriate for the location" and would "have a significant adverse impact".
However, developers Turnwalk Ltd and Park Leisure 2000, hope the three-day inquiry could overturn that decision.
Live updates and more stories from East Yorkshire and North Lincolnshire
Resident Graham Gilbert said on two occasions the planning committee has "unanimously rejected these proposals and yet we still find ourselves having to fight".
Supporters of the park have highlighted possible tourism benefits.
The independent government planning inspector sitting in Beverley is due to make a decision on Thursday.