Hornsea is to lose its minor injuries unit following CCG meeting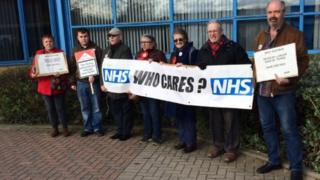 A minor injuries unit (MIU) is to be closed and two others downgraded a meeting of an East Yorkshire Clinical Commissioning Group (CCG) has agreed.
The MIU at Hornsea is to close while Driffield and Withernsea are to open between 08:00 and 20:00 for appointments.
The decision was taken by the NHS East Riding of Yorkshire CCG, which said the move was aimed at improving services.
A local MP has called for referral to the Secretary of State for Health.
Graham Stuart, Conservative MP for Beverley and Holderness, said on Twitter: "This decision flies in the face of what people in Beverley and Holderness want."
He said he had written - along with with Sir Greg Knight, Conservative MP for East Yorkshire - to East Riding of Yorkshire Council asking it to refer the plans to the health secretary.
Minor injuries units deal with patients who do not need to go to A&E and the changes are part of the CCG's larger review of services.
Jane Hawkard, of NHS East Riding of Yorkshire CCG said it had: "listened to what people have said during our consultation and take very seriously our responsibility to consider the issues raised."
The CCG previously said about 13,500 patients a year - which it described as "small numbers" - attended the three units.
Centres at Driffield, Hessle and Withernsea are to open longer but there are to be few urgent slots.
Three urgent care centres will be created at East Riding Community Hospital in Beverley, at Bridlington Hospital and at Goole District Hospital. These are to offer a better range of services and be open every day for 16 hours, the CCG said.
There are no plans to close Hornsea Cottage Hospital, it added.