Burton Fleming declared 'hedgehog-friendly' village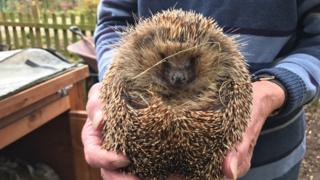 A village has declared itself a hedgehog-friendly zone in a bid to boost numbers of the animals.
More than 50 rescued hedgehogs will be released in Burton Fleming in East Yorkshire to tackle the mammal's declining population in the UK.
Resident Kate Mercer started the project after hearing a talk at the village hall.
She said advice would be given to people on how to construct hedgehog homes from a local animal hospital.
More on this and other East Yorkshire stories
"There are a lot of people in the village who are very aware of hedgehogs," she said.
"I just think it is a really good thing for the children [living here]."
A report in 2015 by the People's Trust for Endangered Species found rural numbers of hedgehogs had fallen by 50% since 2000.
It blamed a decline in the area of land available for feeding and nesting, coupled with increased competition for food from larger mammals such as badgers.