East Yorkshire beekeepers on watch for Asian hornets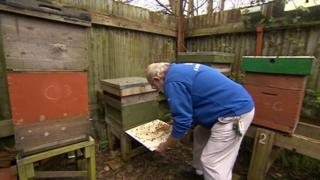 Beekeepers in East Yorkshire are on the lookout for sightings of an invasive hornet that kills honey bees.
Asian hornets have been found in the UK and can destroy honey bee colonies, feeding the grubs to their own young.
Dr Chris Coulson, of the Beverley Beekeepers Association, said: "These things are likely to come in near ports."
The Asian hornet, which is up to 1in (2.5cm) long, is now common across Europe.
Live updates and more stories from East Yorkshire and North Lincolnshire
The invasive species was accidentally introduced to France in 2004 in a shipment of pottery from China.
It was then found near Tetbury, Gloucestershire in September 2016, the first British sighting. It has also been seen in the Channel Islands of Jersey and Alderney.
Dr Coulson said he was tasked by the National Bee Unit, on behalf of the Department of Environment Food and Rural Affairs to watch out for pests, among the bee population.
He said: "If the Asian hornet is established it could reduce the bee population.
"The hornet grabs hold of bees and kills them, bites their heads off and takes the body back to the young."
The Asian hornet is not to be confused with the European hornet, he added.
Identifying an Asian hornet
Vespa velutina queens are up to 3cm (1.2in) in length; workers are up to 2.5cm (1in)
They have dark brown or black velvety bodies, bordered with a fine yellow band
They have only one band on the abdomen. The fourth abdominal segment is almost entirely yellow or orange
Legs brown with yellow ends
Head black with an orange-yellow face
Source: National Bee Unit