Patient referral error hit 145 patients in North Lincolnshire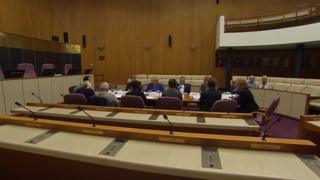 The hospital treatment of 145 patients was delayed after their referrals went missing in North Lincolnshire.
The missing referrals, from local GPs, dentists and opticians in Scunthorpe, Grimsby and Goole and which were due to a new system, came to light in March.
Northern Lincolnshire and Goole NHS Foundation Trust (NLAG) said 85 people had now been identified and discharged.
The region's clinical commissioning group said it had been "fairly comprehensive" in finding the patients.
More on this and other northern Lincolnshire stories
NLAG previously asked patients who had been referred by their doctors between January and October 2016 to get in touch using a dedicated helpline.
At a North Lincolnshire health scrutiny committee meeting, managers faced questions on topics including the missing referrals and recent Care Quality Commission findings.
Earlier in April, the trust became the first in the country to re-enter special measures following its latest inspection.
NLAG hospital directors declined to talk to the BBC, but promised to give an update as to whether the hospitals had improved their performance when they return to face the committee again in a month.
Dr Robert Jaggs-Fowler, from North Lincolnshire Clinical Commissioning Group (CCG), said: "There may well be some more cases who do come forward... but as a CCG we do feel like we have been fairly comprehensive in identifying those that are missing."