Gert Meyers jailed for keeping illegal chemicals at home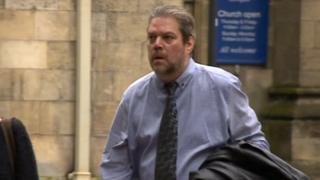 A man who caused the evacuation of more than 40 homes after keeping dangerous chemicals at his house has been jailed.
Gert Meyers, 56, sold the chemicals online without a licence from his Oxford Street home in Bridlington.
An army bomb disposal unit had to be drafted into the seaside town in August following a police raid of the property.
At Hull Crown Court, Meyers was sentenced to eight months' imprisonment.
Judge David Tremberg told the Belgian national: "This is a troubling case…. You demonstrated a contemptuous disregard for the licensing system.
"Your behaviour represented a hazard to yourself and those around you… There was the potential for some greater catastrophe."
Dozens of homes were evacuated in the two-day incident causing widespread disruption as police, soldiers and specialist scientists moved volatile substances from Meyers's terraced property.
Meyers started experimenting in the shed at the bottom of his garden in 2010 when he began helping his daughter with her GCSE science homework.
The court was told the windows of the shed were painted white so no-one could see inside and the door was locked.
He set up a company soon after to "trade chemicals" he obtained from a contact in Poland.
At a previous court hearing in which Meyers had pleaded guilty to possession of regulated substances without a licence, magistrates heard some of the substances involved were used in an unrelated serious crime.
Meyers had said a Home Office official had visited him following a change in the law and told him that he needed a licence for some of the chemicals, but he had "forgot" to apply for one.
Humberside Police said Meyers legally sold substances to two people who were subsequently prosecuted for terrorism offences.