Kenneth Hugill: Legal bill covered for cleared farmer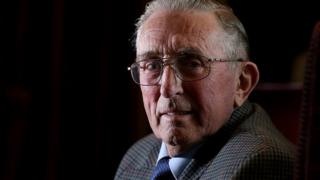 A farmer cleared of shooting a suspected thief on his land said he was "overwhelmed" by the support of an online appeal to pay his legal bills.
A fundraising page for Kenneth Hugill, 83, was set up after a jury at Hull Crown Court found him not guilty of grievous bodily harm.
The appeal raised more than £22,000.
Lawyer Nick Freeman, who set up the page, said acquitted defendants should be able to recover their "reasonable legal costs".
Mr Hugill, from Wilberfoss, near York, shot Richard Stables on 13 November 2015, causing a foot injury.
The court heard Mr Hugill saw a car drive past his remote farmhouse at around 02:00 GMT which he thought "was up to no good".
Mr Stables, 44, had claimed he had stumbled onto the farm accidentally. Mr Hugill told the court he had not intended to hurt anyone but merely intended to frighten them off.
'It's an outrage'
Mr Hugill said he was "absolutely thrilled to bits" with the kindness of the donations he has received since the end of the trial.
The farmer said: "I was more than surprised. People from all over the country wrote to us.
"We've had at least 70 letters, private letters just wishing us good luck."
Mr Freeman, who is campaigning for a change in the law, said: "You're presumed to be innocent in English law.
"How can it be fair if you're presumed to be innocent, if you're acquitted, that you don't recover your reasonable legal costs?"
"It's an outrage, it's an injustice," he added.