Grimsby Icelandic Seachill sells fish processing site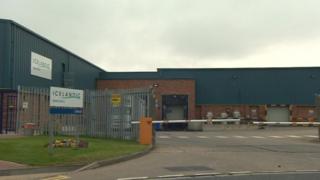 The sale of a Grimsby fish processing site has been agreed after losing a contract with a supermarket chain.
Icelandic Seachill put its business up for sale last week after Marks and Spencer switched to a different supplier. But the firm stressed this move was not the reason behind its decision to sell.
The company had to shut its deli operation in March, shedding 86 jobs.
Its building and land is being sold to Seagold, a company owned by Samherji.
Icelandic Seachill said the undisclosed deal was for "assets only" said it would be moving the rest of its business to its "other facilities".
More on this and other stories from across the Humber region
In a statement, the firm said: "The company [Seachill] is owned by a fund created by 16 Icelandic pension funds which has a defined lifetime that is due to end in 2019.
"Over the past few years the business has, through strong local management, been highly successful, particularly in the last year since exiting the M&S business and having considered all factors the board feel that this is the right time to begin a positive sale process."
CEO Simon Smith said: "We are pleased that local jobs will be created as a result of the purchase by Samherji and have worked with both Samherji and the council to facilitate this."
Seagold are based in Hull and import and sell fish for Icelandic firm Samherji.
Neither Icelandic Seachill nor Samherji have disclosed how many people will be employed at the site.
Gustaf Baldvinsson, sales and marketing director of Samherji, said: "This acquisition gives us scope to significantly grow our existing business and consolidate our group's UK storage and distribution."