Bus driver foils break-in in East Yorkshire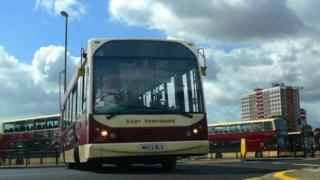 A bus driver foiled a burglary by sounding his emergency alarm when he saw people trying to break into a property in East Yorkshire.
He was driving the East Yorkshire Motor Services (EYMS) bus on Thwaites Street, Cottingham, on Monday afternoon when he noticed the attempted break-in.
He pulled over and turned on the bus attack alarm, scaring off the raiders.
Humberside Police said an 18-year-old man had since been arrested.
He has been released pending inquiries.
More stories from East Yorkshire and Northern Lincolnshire
The bus company said it had passed CCTV of the incident to police.
Anyone who witnessed the attempted burglary, at about 14:45 BST, is urged to contact police.
EYMS said on its Facebook page: "The owners of the property were very grateful for his actions, and our CCTV of the incident is on its way to the police to try to identify the criminals. Well done!"