Estates holds street parade for Hull City of Culture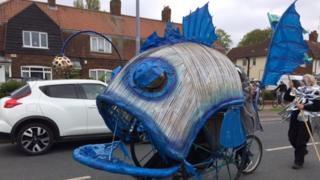 Residents of a housing estate in Hull have held a huge street parade as part of the UK City of Culture 2017 arts festival.
Giant puppets and homemade costumes were created for the event on Orchard Park in the north of the city.
Artists ran special sessions to help people design and build their creations.
Roads on the estate were closed and hundreds of people turned out to watch the event.
Kerith Ogden, one of the artists behind the parade, said it was a chance for people to bring their ideas to life.
"It's about bringing lots of different people together to make a brilliant spectacle that can be enjoyed by all," she said.