Lord Line building demolition plan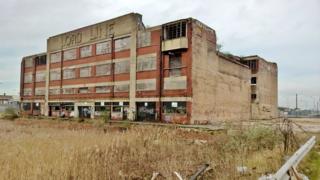 The owner of a derelict trawler company building on a former fish dock has submitted plans to demolish it.
Manor Properties, owner of the Lord Line building, has submitted the plans to Hull City Council.
The council said in May a legal enforcement notice was to be issued amid fears trespassers could be killed.
Campaigner Adam Fowler said the plans could end the "visible presence and reminder of Hull's historic St Andrews Dock".
Live updates and more news from East Yorkshire
The plans submitted to the council include demolishing the Lord Line building, built in 1949, and the nearby Grade II-listed pump house.
The Lord Line building - former trawler company offices - has stood empty for a number of years and has featured on urban explorer websites.
It is on the council's local list of architecturally or historically significant buildings.
Manor Properties said in the application that demolition of the Lord Line building would benefit public safety.
The nearby pump house was built around 1870 to provide power for the dock and is a listed building.
Mr Fowler, of the The City of Hull and Humber Environment Forum, said it was "the largest remaining purpose-built structure associated with the fishing industry".
They were "two symbolic and historic buildings", added Mr Fowler.