Hull's maritime attractions given £27.5m for renovation work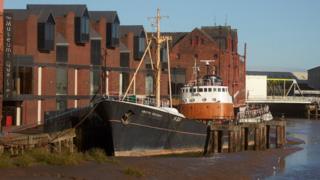 More than £27m is to be spent on renovating Hull's maritime attractions.
The money will go towards developing sites including the Maritime Museum and the historic vessels, the Arctic Corsair and Spurn Lightship
The Arctic Corsair, Hull's last sidewinder trawler, will be moved to a dry dock at the North End Shipyard and used to host tours.
The work will be funded by a £15m Heritage Lottery Fund grant and £12.5m of council investment.
Leader of Hull City Council Stephen Brady said: "This investment will allow the city to celebrate and reflect on its past, present and future as Yorkshire's Maritime City."
He said the project, which also includes the renovation of the Spurn Lightship, would "raise awareness and pride in Hull's maritime history".
The city council is putting a further £12.5m in to the programme, which will be undertaken over the next seven years.
Hull trawler Arctic Corsair was rammed by the Odinn when Iceland imposed a limit on how much fish could be caught in its waters in the 1970s
According to National Historic Ships UK, Arctic Corsair broke the world record for landing the most cod and haddock from the White Sea in 1973
The vessel opened to the public in 1999 and has since attracted in excess of 20,000 visitors
The Spurn Lightship, which was built in 1927, guided ships through the River Humber for almost 50 years
It opened as a museum in 1987