HullCoin 'Local digital currency' in lottery bid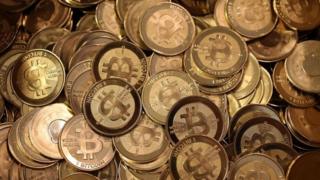 A virtual currency which would earn residents discounts for doing things like recycling or charity work could go ahead if a bid for £500,000 of lottery cash is successful.
The Digital HullCoin would be used to get discounts on goods and services provided by firms in the scheme.
Chief executive David Shepherdson said people would earn "HullCoins" by "doing good things for the council or others".
So far 140 retailers have signed up to the project.
Live updates and more stories from East Yorkshire and north Lincolnshire
Mr Shepherdson said it would be "the world's first local currency of its kind".
Organisations ready to offer HullCoin include University of Hull, Hull College and Hull City Council.
Sterling cannot be used to buy it, unlike some local currency schemes already in use.
HullCoins are to be earned for recycling or taking part in charitable and community endeavours.
Stickers on waste bins could be scanned to give credits for putting your bins out, for instance.
Retailers would benefit from increased custom as people use credits to obtain discounted purchases, said the scheme.
Companies selling broadband, hairdressers and barbers, and restaurants are among those offering discounts.
"It's a new way for people being able to demonstrate community loyalty.
"It's like Hull's own discount voucher scheme and signing up is as easy as it is to join social media", said Mr Shepherdson.
He said 800 people were signed up to use HullCoin but it was hoped 8,000 people would be signed up by the end of the year.
Digital payment apps for smartphones had made the idea easier to understand than when it was first put forward in 2014, said Mr Shepherdson.
Private testing is under way and it is hoped the lottery grant would allow the project to be launched in September.
The scheme was originally backed by Comic Relief and the Technology for Good programme.