Two pedestrians airlifted after Bridlington car crash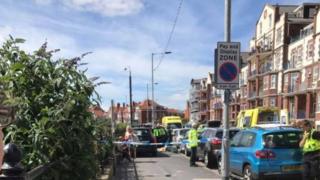 Two people have been airlifted to hospital, one with life-threatening injuries, after being hit by a car that mounted the pavement.
The injured pair, in their 70s, are from the Bedford area and were hurt at about 10.30 BST on South Marine Drive near Bridlington Spa, East Yorkshire.
They are being treated at Hull Royal Infirmary, said Humberside Police.
The car driver, who is in his 50s and from Cyprus, has been treated for minor injuries at Scarborough Hospital.
Humberside Police is looking at the possibility the driver could have become unwell at the wheel and have appealed for witnesses.