Bridlington woman raises funds for free mastectomy bras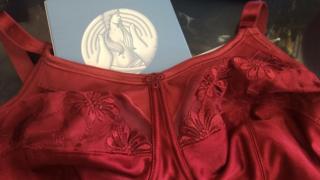 A woman is raising money to give women who have had a mastectomy a special bra for free.
Angela Langton fits mastectomy bras for cancer patients who have undergone breast surgery.
She said she was "horrified" that women "going through such a traumatic time" were being charged up to £55 for one.
The shop owner, from Bridlington, East Yorkshire, said she was appealing for donations so she could provide the first bra for free.
More on this and other stories from across East Yorkshire
Ms Langton said she first started the scheme three years ago when she found "good quality mastectomy bras are expensive when women are going through enough".
"Going through cancer is a stressful time. It's a daunting thing losing a breast.
"It can be an expensive time for them."
She added: "I've had family members, I've been there, I've been a carer and you really don't want to be worrying about having the right underwear to make you feel like a woman, that's kind of what it's all about.
"So for me if I can do a little bit to help them by providing a bra, which is an everyday necessity for a lady, then it's going to make a massive difference."
Ms Langton said she had raised £3,400 to date and had given "about 100 bras for free" to customers who had the surgery.
The bra fitter said she had "a waiting list" of women across the country who needed the bras including customers in Nottingham, Sheffield, London and Hull and started an online fundraising page in May to help meet demand.
Last year lingerie company Amoena won a legal battle over tax on the special bras allowing women to be exempt from paying European customs duty.
---
What are mastectomy bras?
A mastectomy - an operation to remove a breast - is used to treat breast cancer.
Mastectomy bras are designed for women who use an artificial breast following surgery.
Some women use prostheses on a temporary basis prior to reconstruction, while others choose or are unable to have reconstruction and wear an artificial breast on a long-term basis.
They are moulded to resemble the natural shape of a woman's breast, or part of a breast.
A high-quality silicone prosthesis will move naturally when walking or lying down, and can give women balance, comfort and confidence.
They also compensate for the weight of a real breast, and so help to prevent medical problems such as bad posture or shoulder and neck pain.
The charity Breast Cancer Care says it is best to wear a bra with features including soft seams and no underwires while recovering from breast surgery.
In some cases a special surgical bra may be recommended after an operation. This is different to a mastectomy bra.