Humber Bridge scaled for second time in two months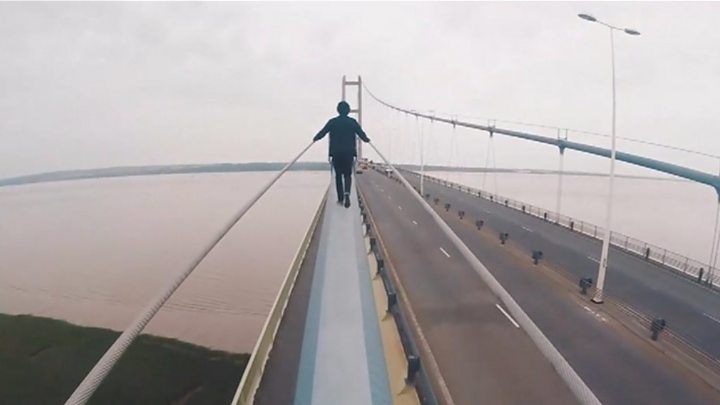 Two men have scaled the Humber Bridge two days before tighter security measures were installed following a previous climb two months ago.
The young men tried to climb the top of the bridge, which is 156m (510ft) high, with no safety equipment before police sirens stopped their attempt.
In May, "urban explorers" scaled the structure prompting a security review.
The Humber Bridge Board said it had completed the security upgrade on Friday, two days after the breach.
More on this and other stories across East Yorkshire and northern Lincolnshire
In the latest video, posted by vlogger Jay Swingler, the pair can be seen scaling a barrier and then using suspension wires as handholds before aborting the climb and running to their car.
Mr Swingler, who appears in the footage, is heard saying: "Yeah the police are definitely coming bro, 100%.
"I really wanted to get to the top as well."
They are then seen being questioned by two police officers as they head back to their parked vehicle.
Labelled 'Caught By Police: Climbing England's Tallest Bridge', the footage has had more than 450,000 views since it was posted on Youtube on Friday.
In a statement, the bridge board said: "When the latest breach occurred this work had been completed on three out of the four access points.
"The climbers choose the only access point that had yet to be updated.
"Work was completed to update the final access point on Friday 28 July, after the most recent attempt."
It said it would be "pursuing a private prosecution against the individuals involved for breach of our byelaws" and added that it was "very confident" its new security measures would "prevent the vast majority of people from accessing the cables".
Humberside Police continued to urge people not to take part in "such potentially hazardous activity".